A Maturity Path to Extend WFM into the Back Office
My last blog post, Extending WFM into the Back Office Is Easier with a WFM Center of Excellence (CoE), focused on how to evolve your back office to adopt a new, consistent way of working with workforce management (WFM), including processes, practices and technology. In this blog, I focus on maximizing the value of WFM by changing the way you work in a prescriptive manner.
So where do you start with WFM in the back office?
Successful organizations leverage a maturity path. They focus on introducing a few WFM capabilities and practices at a time, so the business area can consume the changes, operationalize them and generate results fast.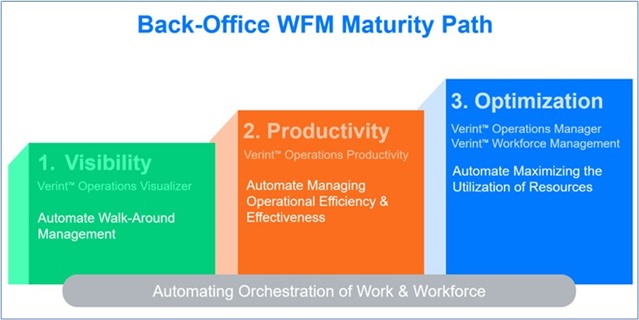 Let's explore each step in the path.
Back-Office Visibility
In any back office you have a mix of customer-related "production work" (executing orders, processing applications, etc.) and non-production related work (meetings, coaching, training, breaks, etc.) Managers know employees are executing production work but are typically challenged to know if employees are focusing their attention on it?
It's a huge pain point for managers, especially in a work from anywhere world.
The reality is, most operations have a plethora of tools that contain the work for people, compounding the difficulty of knowing who is working on what—and when. There is no easy way to really validate if people are focusing their time on the right tasks. Frequently, there are other barriers and distractions that take away from time in production. These are difficult to quantify and therefore difficult to do something about.
Verint Operations Visualizer provides the organization with real-time visibility into the amount of time planned for production, actual time employees spent in production activities, and the types of activities that pull employees out of production.
The solution goes beyond simple desktop analytics by not only capturing application usage on the desktop but also capturing employee self-reported time to account for off-system activities (meetings, training, etc.), as well as static schedules that enable managers to compare expected time in production with actual and employee self-reported time.
Operations Visualizer empowers managers with data-driven insights, removing bias about performance and enabling them to make more informed decisions. Automation pulls data together to simplify the ability to:
Identify if they have an imbalance of production vs. non-production time and adjust
Perform virtual walk-around management to validate the focus of employee attention
Spot behaviors that detract from the quality of work
Quantify other environmental factors detracting from production, such as system downtime
Empower employees with data so they can self-adjust behavior.
This is a great place to start because it solves a problem, and it isn't a heavy lift operationally. There is no data integration—it's a simple setup that organizations can get started with in less than a month.
Back-Office Productivity
Once up and running with Operations Visualizer, the organization has set the foundation for new workforce management practices and has socialized to the solution in the back office. This makes it easier to expand into new capabilities and practices, such as ones offered in Verint Operations Productivity.
This solution not only automates the collection of employee activity data, but also work item processing. The solution overlays the many source systems that contain the work, capturing data and creating a single source of operational truth.
Managers can use the solution to support real-time, data-driven decision making and trend evaluations for productivity management and capacity planning. It saves hours of work that managers used to spend just trying to pull data from disparate systems and then analyze it for that moment in time.
By automating and analyzing real-time data in easy-to-use operational dashboards, managers can:
Ensure enough skilled resources are planned to be in production based on work demand
See shortfalls/overages of skilled resources and proactively adjust
Measure and manage productivity to drive the velocity of doing work
Identify deviations and bottlenecks to reduce backlogs and age of work
Manage performance to goals
A manager can now easily prevent issues and diagnose the root cause of a problem to address it in a timely manner—before it becomes a fire drill. They now have at their fingertips their own mission control that brings it all together in one place.
WFM for Back-Office Optimization
Once operations are executing the work efficiently and effectively, they are set up for success to now optimize those resources. For many organizations, that means being able to organize and prioritize all the work that needs to be done and automatically assign it to the right person at the right time—which is what Verint Operations Manager does.
Optimize the allocation of specific work items to available resources.
Assess quality and conformance to standards to avoid rework and escalations.
This tier of automation improves resource utilization as well as the quality of the work. Work doesn't fall between the cracks—and the automation makes sure the right skilled employees are working on the right work items in the right way.
Additionally, traditional WFM capabilities can help organizations further optimize resource utilization and operational efficiencies by:
Automating and optimizing intraday planning of time for resources and shift management
Empowering employees with mobile request management
Simplifying and automating time off management.
Traditional WFM assumes that the execution of the work is executed within and managed to the parameters planned. Given most back offices don't have true WFM practices, the capabilities described in the maturity path are essential to helping back offices optimize and automate long-term planning and intraday balancing of work and resources to meet service goals.
Summary
Many an organization has been tempted to take the "big bang approach" and deploy to their teams all these capabilities at the same time. That's like signing up to run a marathon at the end of the month, when you've never even run a 10K. Both take time and planning to get the expected results.
There is no doubt that purpose-built, back-office WFM solutions simplify the job of the front-line manager, bringing the calm to the chaos and leveling up their ability to drive operational efficiency and effectiveness.
It helps them clear barriers swiftly and find new paths to create value. By introducing new WFM capabilities and practices in phases, organizations can bring the value of WFM to their teams faster and start realizing the benefits sooner.
I hope you enjoyed this blog series. In case you missed any or would like to review them, here are the links to the full series.
Blog 1: Top 6 Challenges in Extending WFM Beyond the Contact Center
Blog 2: Extending WFM Into the Back Office: Integrating WFM Practices
Blog 3: Extending WFM into the Back Office is Easier with a WFM Center of Excellence