New Verint Report Finds 78% of Customers Return After a Great Digital Experience
As we emerge from the pandemic with rising inflation and a cost-of-living crisis, consumers are being more careful than ever when deciding where to spend their money. For brands, acquiring new customers is going to be tough. Focusing on retention should therefore be the aim of the game. But what's the best way to build brand loyalty and retain current customers?
A new survey from Verint has found that delivering exceptional digital experiences is key to keeping customers coming back for more. 78% of respondents in The 2022 State of Digital Customer Experience Report said they would purchase products or services from a company again if they had an amazing customer experience on a digital channel.
While the report provides a comprehensive overview of the changing customer preferences that impact digital-first engagement strategies, we've selected some of the most important findings to whet your appetite.
Younger Customers Prefer Digital Channels
How do you prefer to contact a company to ask a product or service-related question?​

It may come as no surprise to learn that 56% of under 45s prefer to ask a product or service-related question via digital channels, such as private messaging, live chat, social media, or on a brand community, instead of over the phone​. What you might not know is that the older generation isn't too far behind—40% also opt for digital channels. What's clear is that customer preferences are shifting away from picking up the phone and toward more digital experiences.
Poor Customer Experiences Lead to ​Customer Attrition​
Have you ever stopped doing business with a company due to a poor customer experience?​
Some things are universal—consumers of all ages will not stand for poor customer experience (CX). 64% of the consumers surveyed have stopped doing business with a company due to a poor customer experience.​ With customers increasingly engaging with brands via digital channels, brands simply can't afford to deliver substandard digital CX.
Brands Are Prioritizing Personalized Customer Experiences
What is your company's overarching customer experience priority for the next 12 months? ​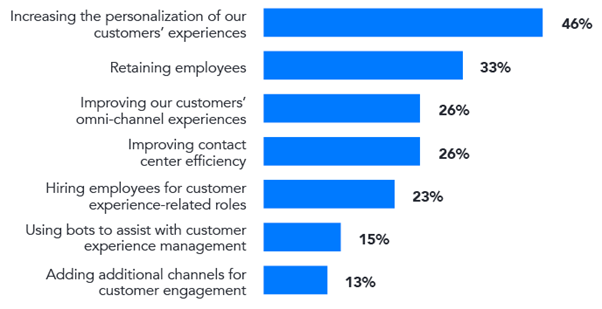 We know that customers return to brands with great digital CX and abandon those that don't, so it's great to hear that personalized customer experiences are being prioritized. 46% of CX professionals say that increasing the personalization of customer experiences is an overarching CX priority in the next 12 months​. Personalization has a vital role to play in unlocking the excellent digital experiences that create brand loyalty.
CX Leaders and Managers Aren't As Aligned As You Might Think
How effective is the digital channel experience you provide for your customers?​

Consumers have moved to digital channels but just how well do brands think they're doing to deliver the experiences that their customers crave? Well, 50% of directors believe they offer extremely effective experiences on digital channels compared to just 22% of managers​. Could it be that managers have a more honest assessment of their brand's digital channel experience as they're closer to their customers?
Clearly, there's room for improvement as brands come to grips with digital customer experience.
Download The 2022 State of Digital Customer Experience Report
Whether your brand is at the beginning of its digital CX journey or just looking to make incremental improvements, The 2022 State of Digital Customer Experience Report has all of the information you need to make sense of the current landscape and make informed decisions.
The report explores ways that businesses can provide customer experiences that build lasting relationships and the best practices that separate the industry leaders from the rest—allowing you to discover where competitors are focusing their efforts and budgets.
Download the report to learn:
Why digital channels are key for the future of customer engagement
The top CX trends and priorities for businesses in 2022
Key recommendations to modernize your CX strategy.